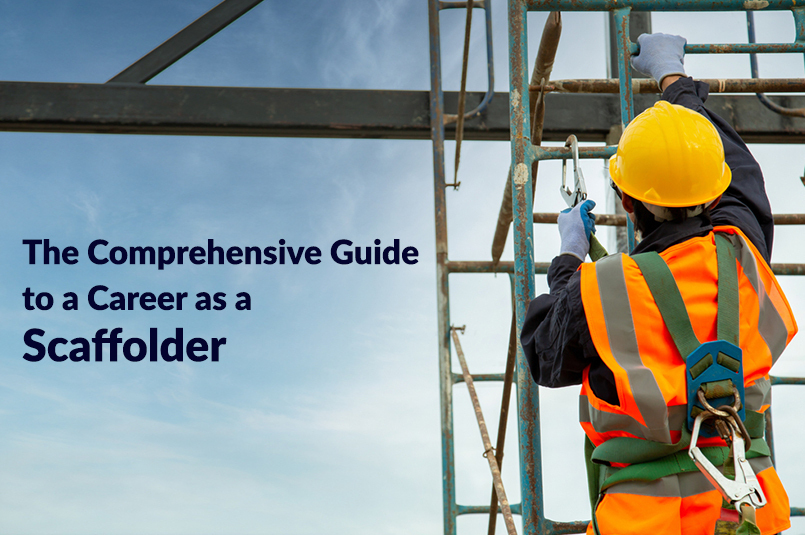 In the dynamic world of construction, every role plays an indispensable part. The realm of scaffolding, though less discussed, forms the backbone of the industry by ensuring that structures are both safe and accessible. If you're considering a career in this critical sector, this guide will shine a light on the pathway on how to become a scaffolder.
Let us discuss about the basic and advanced qualifications to become an expert scaffolder in details:
Understanding the Role of a Scaffolder
At the heart of any construction project lies the scaffolding, ensuring that workers can navigate their workspace safely. Scaffolders take on the mantle of designing, installing, and disassembling these intricate structures. Beyond just setting up, they guarantee the scaffolding meets strict health and safety regulations. Armed with tools like scaffolding poles, safety nets, and guard rails, they make the sky-high workspaces of construction workers both accessible and safe.
 Beginning with the Basics: Training and Qualifications
To become a scaffolder, the journey begins with the foundation of the right training. Typically, aspirants either:
– Opt for an apprenticeship, working and learning alongside seasoned scaffolders on live construction sites.
– Enroll in specialized scaffolding courses offered by renowned colleges or training institutions.
During these foundational steps, a scaffolder-to-be gains insights into the health and safety norms, and the hands-on experience required for the role.
Becoming a Fully Qualified Scaffolder: The Pathway via CISRS Trainee Scaffolder Card
Once the initial training phase is completed successfully, one becomes eligible for the CISRS Trainee Scaffolder Card. This is your ticket to the world of construction sites, where you'll be working under the watchful eyes of a qualified scaffolder.
Achieving the Status of a Fully Qualified Scaffolder
To go from a trainee to an independent scaffolder, there's another layer of training to undergo. Here, individuals:
– Delve deeper into understanding technical blueprints.
– Master the art of erecting and dismantling scaffolds.
– Sharpen their focus on health and safety compliance.
Basic Scaffolder Qualification
To attain the Basic Scaffolder Qualification, the journey includes two sets of ten-day courses, a hands-on skills test, and a rigorous final evaluation. Upon successful completion, one is awarded the System Scaffolder Card, granting the freedom to work autonomously on construction sites.
Aiming Higher: Advanced Scaffolder Qualification
For those not content with just the basics and looking for deeper mastery, the Advanced Scaffolder Qualification beckons. This elevated status requires:
– A year's worth of hands-on job training.
– An additional specialized one-day course.
With these added credentials, aspirants can proudly claim their Advanced Scaffolder Card.
Exploring Career Horizons
Once inside the scaffolding universe, the sky's the limit. Scaffolders can evolve into roles like scaffold designers, supervisors, or even ascend to the role of a construction site manager. There's also the avenue to specialize in niche scaffold areas or start one's own venture, catering to the ever-growing demand for scaffolding solutions. And for those hungry for more, they can expand their horizons by acquiring qualifications in related construction domains.
A scaffolder's role, while demanding, provides a fulfilling and dynamic career in the vast construction landscape.
Fulfill Your Scaffolding Needs with Scaffolds Supply 
The world of scaffolding is not just about poles and platforms; it's about safety, innovation, and ever-evolving skill sets. Every construction marvel stands tall, thanks to the silent scaffolding structures supporting them. And if you're looking to be part of this industry, remember that with the right training and a commitment to excellence, you can climb not just scaffolds but also the ladder of success. By diligently following the necessary steps, from comprehensive training to gaining vital qualifications and hands-on experience, you can embark on a fulfilling journey to become a scaffolder. In doing so, you will play a pivotal role in ensuring the safety and success of construction projects both locally and worldwide.
For those in need of the highest quality scaffolding equipment and accessories, turn to Scaffolds Supply, a renowned supplier that stands tall as a beacon of trust and reliability in the USA.  They offer top-notch products and expert guidance to support your scaffolding endeavors. Whether you're an aspiring scaffolder or an established professional, Scaffolds Supply has the tools and expertise to meet your requirements.